Tonys of Cincinnati Review Best Cincinnati Steakhouse
On September 7, 2014 my wife and I had the pleasure of dining at Tony's of Cincinnati, a fine restaurant located on Montgomery Road just south of the intersection of Fields Ertel Road. We were celebrating our 40th wedding anniversary and our oldest daughter selected a special place for us to dine. We weren't disappointed.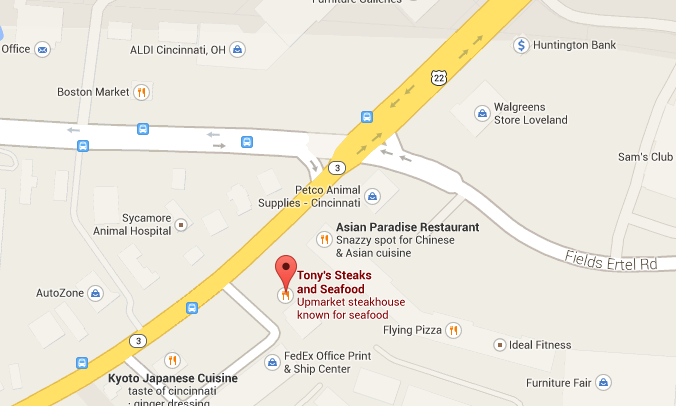 Decor and Appointments: The restaurant sported a small bar area, a platform where live musicians play and a generous seating area with tables of different sizes. I loved that there was lots of space between tables so you didn't feel cramped. This is a white tablecloth and fine-silver restaurant, not a diner nor a chain restaurant with canoes and old signs hanging over your head. You didn't see framed sports jerseys and photos hanging on the walls either.
Food and Beverage: If you do your due diligence online, you'll quickly discover that Tony's has a reputation of being the best steakhouse in Cincinnati. That title for years was held by a man named Jeff who had his restaurant in an old restored police station. Jeff, it's time for you to step aside. You've had your day in the sun.
The menu had everything I expected and neither my wife and I were disappointed. Kathy ordered the giant pork chop that looked as if it had come from a mastodon it was so big. I had the shrimp cocktail and the Dallas Clark - Prime NY Strip steak.
Let me stop now and tell you that my business - I'm a syndicated newspaper columnist - has had me in all of the big steakhouses across America. Manufacturers try to wine and dine me so I write nice things about their products. Trust me, I'm not swayed by food and drink, but I do pay attention to the quality of the food and dining experience when I'm eating at places like this.
The NY Prime steak I had at Tony's was the best I've ever had in my 62 years here on the planet, and I've eaten LOTS of NY Prime. My compliments to both the chef that prepared it perfectly and to Tony for ensuring he purchases the BEST cut and has the best chefs to prepare the juicy and tasty steak.
My steak was cooked to perfection. I'm very picky when it comes to how meat is cooked and I savored each bite of the tender and tasty steak.
Let's talk about the shrimp cocktail. The shrimp were huge. They were so big that it was impossible for me to finish my steak.
The house wedge salad with the blue cheese crumbles was one of the best I've ever had. Kathy is very picky about her salads and she loved her's too.
We shared a piece of the cheesecake that had a creme brulee glaze on it. It was moist, delicious and was the perfect way to top off the meal.
Service: Seojin was our waiter. This young man was a real pro. If I had to rate him on a scale of 1 - 10, I'd give him a 10 all day long. He was polite, he explained everything and all options, and he went out of his way to ensure we had everything we needed. Tony is lucky to have Seojin as an employee.
Value: I've saved the best for last - I believe. While I'll not be comparing apples to apples here, I have to tell you about where we ate on Friday night - Montgomery Inn.
Kathy and I were born and raised in Cincinnati, OH but we moved to New Hampshire six years ago. We came back to town to visit family and friends. Each night we were dining at a different place.
On Friday we gathered with some old grade school friends of mine and their wives. One of my friends selected Montgomery Inn. My last two experiences there were bad, but since we were guests I didn't say anything hoping that my meal would be better than the past two times.
Understand that I've been to Montgomery Inn for decades. I dined there when Ted Gregory, the founder, was still alive. Back then, the ribs were juicy, the meat fell off the bones under the influence of gravity and you got a tremendous value for money spent.
Those days are long gone. I paid $29 for a full rack of dry ribs on Friday night that I had to use my teeth to tear off the meat from the bones. The salad was ala carte. The saratoga chips included with the ribs were so so. I felt like I was in an Applebee's. The bill for our dinner on Friday night was $69 and all I had was a rack of ribs and Kathy had some chicken. We had no salad, no dessert nor any drinks other than iced tea.
Now let's talk about Tony's. When I received the bill for all we had, it was just over $115.00. We had so much food that the leftovers made a FULL MEAL for both Kathy and I the next day. This included salad too! The salads were so large we couldn't eat all of it and had it boxed for the next day.
The only thing we consumed all of at the table was the cheese cake.
So you do the math. Kathy and I got two meals for the price of one and the food was some of the BEST we've ever had.
If you want great food, great value, great service at a great location, then just go to Tony's. My only regret is that I didn't get to tell all of this to Tony to his face. No worries, I'm sure I'll call ahead next time we come to town so I can shake his hand.
Go to Tony's now and see if you don't agree with what I say. Feel free to add your thoughts in the comments below.
AUTHOR'S NOTE: I'm not related to Tony, I'm not an investor in the restaurant and I've not been compensated to say all these nice things. My job is to report the truth about tools and building products and whenever I experience great things, I feel obligated to share my thoughts.
All too often a restaurant will get a bad review from a patron that's impossible to satisfy - I've had my share of those in my Stain Solver business - or a patron that has an axe to grind. I want this review to offset some comments Tony may receive that are unwarranted.
Posted by Tim Carter at
7:06 AM
|
Comments (0)