Waldron Bay - Land of Unicorns on Lake Winnisquam
Waldron Bay is a private community on the northwest shore of Lake Winnisquam in central New Hampshire. Lake Winnisquam is the fourth largest lake in New Hampshire with 7.2 square miles of surface area.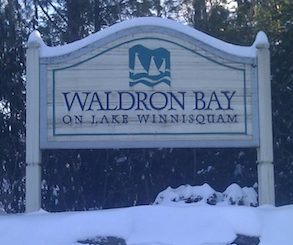 If you're looking for a full-time residence or a summer home to escape the madness of city life, Waldron Bay may be for you. How is it I know so much about this magical place? I've owned a lakefront home here since July of 2008.
As you spend some time looking at houses and lots in central New Hampshire, you'll discover it's tough to get a great blend of seclusion, a lake free of noisy cigarette boats, a large private beach, convenience to shopping and Interstate 93, and harmony. Some residents will tell you Waldron Bay is the place where all this, and more, is possible.
Waldron Bay has over 200 acres of common land blanketed with majestic trees that seem to scratch the sky they're so tall. Some of these trees were seedlings as the Civil War (War of Northern Aggression if you're a Southerner) was ending. If you want to know more about these massive trees, please email me. See below.
If and when you drive down Swain Road into the community, it's easy to confuse Waldron Bay with some of the top national parks in the USA. Fortunately Waldron Bay has strict rules that prohibit residents from harming the trees on common land.
As dusk transforms to night around the expansive private beach at Waldron Bay, legend has it the horns of unicorns can be seen poking out from the forest along the gravel road leading to the boat slips south of the beach. I've never seen this, but I've heard rustling noises in the forest on my own lot. The next day I've seen what appear to be hoof marks in the soft soil of the forest floor, but I'm no expert on unicorns!
In the summer, when swimming is delightful and boating is at it's peak, Mother Nature will sometimes provide a brilliant light show after a passing shower. On many an occasion I've seen a gorgeous rainbow arch over sailboats gliding across the placid water of Lake Winnisquam.
Do you want to hear the haunting calls of loons deep in the night? Waldron Bay is for you. Just one mile north of the primitive beach that's part of Waldron Bay, you can kayak up to the loon preserve. Not a day goes by you don't see or hear these aloof birds that can dive deep into the lake for food staying underwater for up to a minute. In the spring you may be treated to a mama loon with a chick on her back!
When house hunting in central New Hampshire, ask your realtor about private associations. My guess is Waldron Bay will be in the short list of the most prestigious associations in the Lakes Region of New Hampshire.
As you travel down Swain Road and Lower Waldron Road, look off to each side in the deep forest. You just may see one of the legendary unicorns. Be sure to have your camera ready!
You may want to schedule a visit to Waldron Bay on a weekend summer evening. Pull into the parking lot adjacent to the community clubhouse just off Lower Waldron Road.
Look east out across the lake and you just may hear someone strumming an acoustical guitar and a strain or two of Kumbaya as a tight group of neighbors holds hands and sings down on the community boat slips expressing their love of one another and of this wondrous place!
When you immerse yourself in all the beauty at Waldron Bay, all sorts of thoughts might float through your head ushered by the balmy summer breezes. One day you could be resting in a recliner at the beach by the shore of Lake Winnisquam. As you see the sunlight reflect off each wave top like a platter of glittering diamonds, don't be surprised if you wonder if the lake water comes from the tears of unicorns. Who knows, stranger things have happened!
If you can rent a home here for a week to really soak it all in, you just may be treated to a glorious sunrise. Below is a photo I shot looking southeast as I stood above my dock just before Thanksgiving 2013. Yes, it's possible Waldron Bay could be the most tranquil place in New Hampshire!
Remember, if you want to know more about the history of Waldron Bay before you buy here, be sure to contact me.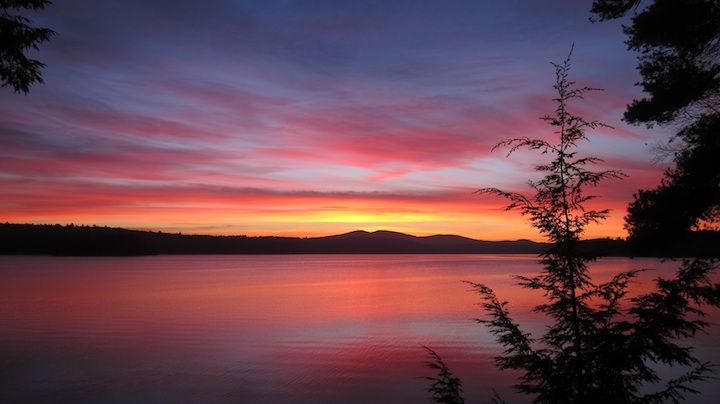 Posted by Tim Carter at
7:54 AM
|
Comments (1)