Michael Frank Wilson - Cincinnati, OH and Rye Beach, NH
Who was Mike Wilson?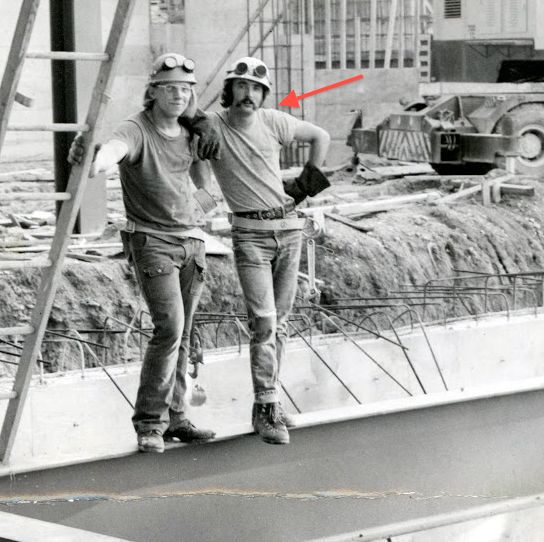 Mike Wilson was the new kid on the street who rode a bike with no fenders and funny handlebars.
Mike Wilson was the small wiry guy with the funny smile.
Mike Wilson had a magical Mom named Lillian with a mesmerizing southern accent.
Mike Wilson lived in the two-family house at the bottom of Riddle Crest Lane.
Mike Wilson could really play the drums.
Mike Wilson played bike polo in front of Rick Tallarigo's house like he was going for gold.
Mike Wilson had all the moves on the basketball court and football field.
Mike Wilson loved grilled shish kabob and corn.
Mike Wilson, I believe, threw the mud ball behind Little Sisters of the Poor that hit Pekka Mooar in the head.
Mike Wilson introduced us to his cool friends Kenny Cairns and Doyle Spradlin.
Mike Wilson went to Hughes High School with some tough kids.
Mike Wilson lived just above the apartment complex where we went skinny dipping in the pool.
Mike Wilson was the focus of Merri Mooar's anger and wrath on our Whitewater State Park Adventure Week. I forget why, but Mrs. Mooar sure was upset.
Mike Wilson kissed a girl at Whitewater State Park, but I don't remember who it was.
Mike Wilson and Billy Gottesman were as thick as thieves.
Mike Wilson had a cool 1967 Pontiac Tempest with a two-tone paint job - maroon body with a black top.
Mike Wilson made tanning lotion from baby oil and iodine.
Mike Wilson stopped at my house walking home from college one day and gave me an Arts and Sciences course catalog. That's how I ended up majoring in geology.
Mike Wilson talked me into walking out to the very end of a tower crane that was 150 feet in the air at one of his co-op job sites at University Hospital.
Mike Wilson taught me how to slide down steel columns.
Mike Wilson was one of the star players on our UC independent flag football team.
Mike Wilson was a fantastic swimmer.
Mike Wilson and I worked together one cold winter day so he could complete an assignment in his civil engineering surveying course. I was the rod man. He was on the transit.
Mike Wilson went to NJ one summer and washed dishes at a restaurant. It was a life-changing experience for him.
Mike Wilson was a great quarterback that could pass on the run.
Mike Wilson was the adventurer who went skiing in far away Colorado and Mt. Snow in Vermont. I wish I would have gone.
Mike Wilson was fearless. He went on backpacking trips out West that I dreamed of doing. I was too busy working. What a mistake not to go with Mike.
Mike Wilson, Kenny Cairns and I went skiing in northern Ohio one Saturday. Kenny got a speeding ticket and I skied across someone's skis crashing at the bottom of the hill.
Mike Wilson wore logo t-shirts under his white dress shirt at P & G.
Mike Wilson hosted my bachelor party where I got totally wasted and played badminton against everyone at once. Why was everyone laughing at me?
Mike Wilson was in my wedding.
Mike Wilson painted provocative sayings on the side of my new orange pickup truck before Kathy and I left for our wedding night at the Golden Lamb.
Mike Wilson and I were teammates playing the card game Uno against our wives. They were angry when they discovered us cheating using my striped colored polo shirt to send signals to Mike as to what card to play next.
Mike Wilson invited Kathy and I for a week's vacation at Litchfield Beach in South Carolina.
Mike Wilson was a hard worker.
Mike Wilson came into Skyline Chili to eat on Sundays when I worked there. He calculated his tip to the penny.
Mike Wilson loved to use his hands when he talked.
Mike Wilson was a fighter.
Mike Wilson was cool.
Mike Wilson was one of the few people who called me Timmy.
Mike Wilson was my very good friend.
Mike Wilson was the brother I never had.
Mike Wilson will be missed.
Rest in Peace Mike.
Michael Frank Wilson April 6, 1951 - October 9, 2012
Posted by Tim Carter at
5:56 PM
|
Comments (18)