August 18, 2011
Grand Cayman Beach Suites Video Review
Let me share a true story about tolerance, patience, manners and karma. If you're thinking of coming to the Cayman Islands and are considering staying at the Grand Cayman Beach Suites hotel, then this is a must read.
Two days ago my youngest daughter and I flew here from the Northeast on a dad/daughter vacation. Because of a number of reasons, family vacations simply couldn't happen as my kids were growing up. I wanted to take them to all sorts of nice places, but money, timing and the opportunity just didn't present themselves.
Kelly and I arrived here in the Cayman Islands after flying on two airplanes and getting up at 5 am. We were tired and hungry. Fortunately the cab ride from the airport to the hotel was short. I'm still not used to seeing cars on the wrong side of the road. We were anxious to get to our one-bedroom suite that had a view of the Caribbean Sea.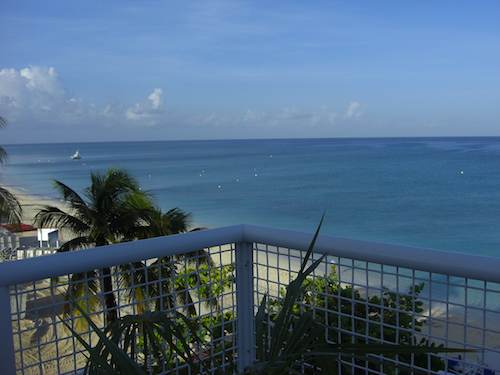 When I got to the front desk to check in, the first person to greet me was Ms. Taneisna Campbell. She was very pleasant and looked up my reservation. The expression on her face changed slightly and she told me I had to speak with Ms. Tricia Miller, the manager, who was on the phone helping someone else.
After just a few minutes, Tricia hung up the phone and greeted me. "Mr. Carter, I'm afraid that I have to put you in a hotel down the street for just tonight. We're overbooked and the fine print on the online site you purchased from says this is a possibility," she explained.
Now stop and think about this for a moment. Overbooked? We are talking about the lowest spot on the graph of the Low Season here in the Cayman Islands. It's like a ghost town here now. Why would this hotel be overbooked? I'll give you a clue - this property used to be a former Hyatt hotel. You'll discover additional reasons as you read on.
Now, back to the lobby where I was just given some bad news. I've been standing back in the check-in line watching when a person in front of me receiving this bad news explodes. You'd think the world ended. The person goes ballistic.
I don't know about you, but I've discovered that screaming, yelling and threats are pretty much not going to get the desired result. Plus, in my case, I was in no mood to argue. I just wanted to get Kelly onto the warm beach sand. Think about it, the patience that hospitality workers must possess is enormous.
It was futile to complain. Tricia was being truthful and just doing her job. Besides, she was kind enough to offer a generous food and beverage allowance free of charge once we came back the next day. Kelly and I left the hotel in their private shuttle, and moments later were in the other hotel. It was a very pleasant property, and we survived.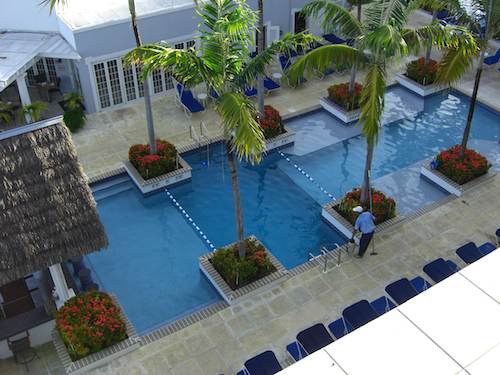 Before leaving the lobby of the Cayman Island Beach Suites, Tricia handed me her business card and said, "Mr. Carter, please call me in the morning and we'll have our shuttle pick you up to bring you back." "Thanks, I'll do that," I said as I walked out the door.
The next morning we called and talked with Tricia. We decided to come back around Noon as there was plenty to do where we were. The crystal-clear sea water was just the same as it would be down the beach at the Grand Cayman Beach Suites. Kelly and I enjoyed an outdoor breakfast next to the beach and then relaxed.
During the phone conversation, Tricia mentioned that she upgraded us to a two-bedroom oceanfront suite for the rest of our stay apologizing for our trouble. I thanked her on the phone not fully realizing what she had done.
When we arrived at the Grand Cayman Beach Suites, checked in and got to our room, I was speechless. Never before in all my life had I stayed in such a nice room. It was magnificent and the view from the lattice-shaded balcony was beyond words. Watch the videos at the end of this article, and you'll see why you'll want to come here.
I can't say enough nice words about Tricia and the rest of the staff at this superb property. I'll never know why we were treated the way we were, but I highly suspect it was the absence of me groaning, moaning and complaining when we discovered that we couldn't stay here the first night.
In a way, I'm really glad we didn't. I thought the room we were in the first night was not bad, but now it doesn't even compare to what we have now.
If you're planning a trip to the Cayman Islands, there is only one place to stay in my opinion - right here at the Grand Cayman Beach Suites. Don't waste your time looking for another place. And if you can afford it, be sure to book room 8415. You'll not believe it when you see it.
UPDATE:
Kelly and I have now been here for three days and I want to share some other great news about this marvelous hotel.
First, they have a delightful tiki bar next to the swimming pool that has seats where you can dangle your feet in the water. Some pools have the seats lower so the top of the seat is in the water, but these are fine.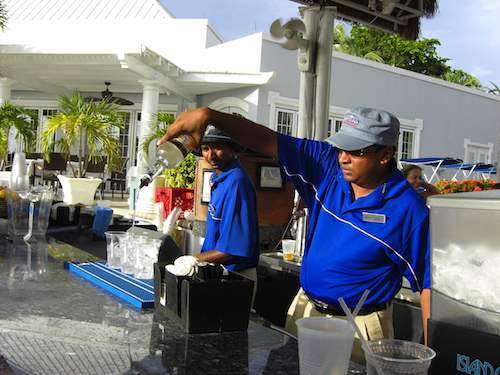 I highly recommend the mango raspberry smoothie. If you can have it made by Dileep, do it. He's an employee that's been here for over a decade. Dileep hails from Sri Lanka and bleeds the Cayman Islands Beach Suites.
In fact I suspect there's enormous competition each month for the Employee of the Month Award. I'll bet Dileep has a wall full of these plaques at his house. The general manager, Bill Powers, must have a hand-wringing fit each month when he has to pick the winner. Why? Because every team member I've run into here has been friendly, helpful and goes out of their way to assist.
Kelly and I also discovered that part of this property is the magnificent 18-hole golf course Britannia just a few minutes away. We ate lunch there yesterday and Dileep was kind enough to grab a couple of golf carts and drive us around several holes of the course.
We made it to the two signature holes down by the water. Oh my gosh I wish I had time to play a round, but that's not fair to Kelly. I decided I'll just have to come back and play another time. The course topography is so interesting. It's a target-golf course for sure. You'll love the colorful iguanas that make this course their home. They'll not bother you one bit.
Posted by Tim Carter at
9:45 AM
|
Comments (1)
August 9, 2011
Publishing Paradigm Shift - Time to Upgrade Website Infrastructure
Thirty-seven years ago I was fresh out of college and had started my own residential renovation and construction company. The Internet may have existed back in 1974 in some crude form, but I didn't see it for another twenty-one years, just after I transitioned from day-to-day construction work to that of a syndicated newspaper columnist helping consumers discover the best products and techniques for their homes.
Fast forward to today, and I've witnessed the golden age of the print industry and its subsequent demise.The growth and speed of solving problems that the Internet offers was too much for an industry dependent on dead trees. That is, after all, one of the most basic reasons anyone uses the Internet - to solve a problem.
But many manufacturers and service providers have been dragging their feet with respect to directly investing in this fledgling industry that's now really only fifteen years old with respect to actual commercial use of the Internet. For decades and decades manufacturers of products made massive investments in the print industry. This revenue source allowed them to staff up and be ready to get news out about products and innovations.
Ad networks have grown tremendously in the past decade allowing advertisers to reach consumers, but the ad buyers have overlooked websites that carry all the water. Very little direct ad buys have been made that allow website owners to grow and flourish.
Just two months ago I was at a press event hosted by DeWALT Tools in Baltimore, Maryland. One of their top product managers said to me as the event was coming to a close, "Tim, you probably realize that we're depending more and more on websites like AsktheBuilder.com to get the word out to consumers." After a brief back and forth in the conversation, I exclaimed, "Wow, I don't know if that's a wise thing to do as the ecosystem you're depending on is very fragile and only one or two of my peer websites have more than one person producing content. Many websites are run by owners that only do it part time."
The shock on the face of this businessman was profound. He told me he had never given any thought to the business end of content creation websites like mine. As I waited for my airplane, I decided that many other manufacturers were in the same boat. They really had no clue as to how rapidly the transition from print to Internet was happening. In addition, I felt these people on the other side of the fence had no idea about the underlying infrastructure of the content websites. Little did they know these publications are not really ready to handle all of the information load that is being aimed at them.
I've seen the number of press releases coming my way increase well over 300 percent in the past few months. It's only going to get worse. Yet, I don't have the resources to hire two, three or four full-time people to handle this load.
To process and share this information, content websites in every vertical need to staff up. There are thousands of qualified writers and other content creators that are the detritus of the cratering print industry. These people need jobs. Websites like AsktheBuilder.com are only too happy to hire them. But one needs resources to do this.
The conversation with the DeWALT product manager was the seed from which the position paper I published just a week ago grew. This white paper details the paradigm shift that's just recently happened and how websites have so much more to offer than traditional print.
What's more, in the final days of writing the paper, I had discussions with two other home-improvement website owners, Todd Fratzel  and Rob Robillard, that produced a new ad product for our websites, and any others like ours in any vertical, that makes the traditional print publication full-page ad look like a tiny classified ad. I call it the full-page ad on HGH.
Suffice it to say that websites like AsktheBuilder.com can now offer manufacturers these things:
• guaranteed visitors to a branded page that is all about the manufacturer's latest product
• guaranteed direct sales of products to consumers from these pages
• guaranteed engagement via social media
• video demonstrations of new products to show them in action
The best part is that all this can be offered to manufacturers for less than they used to invest in the print industry. It's a new day for consumers, manufacturers and those independent third-party websites that provide a great resource to consumers by honestly telling them the truth about products. At the end of the day, that's really what consumers want - they want the Easy Button. They just want to be told the truth as to what works and what's the best value for their dollar.
As soon as manufacturers start directly investing in great content websites, they'll get the word out in minutes and hours not days and weeks as happened in the past with the print industry.
Posted by Tim Carter at
6:38 PM
|
Comments (0)
August 2, 2011
The Hartford Insurance Company - Questionable Rate Increase
Buying insurance, whether it be life, disability, homeowners, auto, etc., is not much different than going to the $500 Blackjack table at the Bellagio in Las Vegas. You put down your five-hundred-dollar purple chip thinking you're going to win that hand. The dealer accepts the bet thinking the house is going to win. You play the hand, and someone is $500 richer.
You do the same when you pay your insurance premium. You're betting something bad is going to happen and you'll retain lots of your wealth because the insurance company will pay for the loss.
But if the insurance company writes the policy and accepts your money, they're betting the odds that nothing will happen and they will keep the premium you paid for the policy.
For the past three years I've had The Hartford insurance company cover my house up here in New Hampshire. I was paying a little over $1,100 per year for pretty much standard coverage. Then the premium started to creep up. Last year I paid $1,435.00.
Over the three years I had no claims. Now you might think that makes a difference. The truth is, it doesn't. Remember, the term of the policy is just like a single blackjack bet. After the hand is over, you start over. The same is true at each renewal of your policy.
When it comes to your past history, for the most part the insurance company doesn't care that during the previous term of the last policy you had no claims. That's old history. They won and you lost. But I digress.
About a month ago I got my premium renewal from The Hartford. There were no changes in the policy. Everything was the same as before. The new premium - are you sitting down: $2,383.00. For those keeping score, that's a 66 percent INCREASE.
I didn't get a call from my local agent Arnie Pierce whose office is in Lakeport, NH. That was a little discouraging. I would think the local agents would get a report of upcoming renewals and what the premium is going to be.
If there is a major increase in the works, I would have thought the agent would call headquarters to find out what triggered the increase so he/she could call the homeowner or lobby with the underwriter at the company to roll back the increase. But maybe that's not how The Hartford works. Maybe they keep their local agents in the dark like mushrooms.
So I started to check the new declaration sheet against the old one to see if something had changed. I couldn't find a thing. But I did notice that they said my house was over 1,000 feet from the closest fire hydrant. I thought about that, and came to the conclusion that was probably wrong.
I had to call my agent Arnie Pierce. Cassie, his wonderful assistant, told me that the reason my premium increased was because my insurance score came back too low and that the house was far away from the hydrant.
I discovered that the insurance score is a blended variable that looks at your credit score and any claims you've had. Isn't that funny? My credit score went UP in the past year because I sold my second home in Cincinnati, OH and paid off the mortgage and the home-equity loan. And I've not had any claims.
So I got out my long tape measure and discovered my house is only 800 feet from the fire hydrant. Well, I'll be. I later discovered my local insurance agent was supposed to come out and verify this when the policy was first written and take photos of the house. That never happened, but I guess that The Hartford was never the wiser. Perhaps that would have come up in a periodic audit.
I then called The Hartford's Customer Service Center and finally talked with Shalla who told me that the fire hydrant error caused the premium to be too high each year by about $262 or so. She said I deserved a refund of that extra premium over the previous three years.
After doing some other recomputing, the best rate The Hartford could come back with was $1,557.00. I felt that was too high, so I shopped around.
I was able to get a better policy from, of all places, The Cincinnati Insurance Company, for $1,140.00 per year.
The Moral of the Story is:
Check the accuracy of your Declaration Sheet at the beginning of the policy and each year.
REGULARLY shop around for a new premium price. Do this two months before your existing policy expires.
Make sure your local agent takes photos and measurements at the beginning of the policy life.
Posted by Tim Carter at
7:26 AM
|
Comments (32)